Crops and Soils
The ever changing world of crop production requires producers to know about everything from global markets – to local production practices. Meadowlark Extension District staff are available to assist you with your agronomic needs via local demonstration plots, field days, and individual consultations.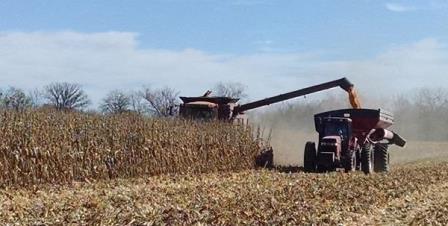 We're also your local link to the vast knowledge base that is K-State Research & Extension.
Contact us for all your crops and soils questions.
Interested in getting a Soil Sample/Test?
2023 Demonstration Plot Tour Resources
Private Pesticide Certification
Custom Rates
Rental Rates
Informational Videos
Kansas Mesonet Stations
Brome Recovery Update
Brome Recovery Presentation with Notes
Brome Recovery Monitoring
Broomsedge Bluestem
Soil Fertility Program
Crops Connection Articles
June 30, 2023
Feb 9, 2023
Jan 27, 2023
Weekly News Articles
Soybean Cyst Nematode Sampling
The Most Wonderful Time Of The Year
Rental Arrangement Resources Audio
Why 50 Degrees?
Fall Herbicide Applications - Beyond The Weeds
Fall Musk Thistle Control
Soil Testing Forage Stands
Fall Forage Stand Evaluations
Soybean SDS
Small Grain Cereal Options
Variability in Soil Sampling
Harvest Weed Managment
Safety During Harvest
Foxtail
Effects of Late Season Usage on Cool Season Grasses
Late Season Weed Control Evaluations Audio
Soybean Insects and Defoliation
More Heat Stress - Effects on Soybeans
Stressing the Corn Crop
Hemp Dogbane Audio Version
Post Harvest Hay Field Evaluations
Tar Spot Confirmation - What Does it Mean?
What To Expect From Fungicide Applications To Corn
Summer Monitoring
Hackberry Butterfly & Fall Army Worms
Hay Harvest Heights
Early Summer Sericea Control
Early Fungicide Applications to Corn
Soybean Seedling Diseases Audio Version
Proper Pesticide Use
Soybean Seed Treatment
Grass Growth & Development - Get... Ready...
Applicator Certification Audio Version
Native Grass Establishment
Tar Spot
Weed/Brush Control Practices
Stress in Agriculture Audio Version
Considering Sulphur
Management of Eastern Redcedar with Herbicides Audio Version
Farm Transition
Poultry Litter
Kansas Custom Rates
Tar Spot
Basal Bark Herbicide Applications
Cut Stump Herbicide Applications
The Effects of Late Season Usage on Cool Season Grasses
Soil Sampling Challenges
Cover Crop Evaluations
Fall Forage Management
Liming Acid Soils
Still Recovering - Armyworms 2021
Hemp Dogbane
Fungicide Applications in Corn
Plant Nutrient Analysis - Corn
Hay Harvest Plant Response
Pesticide Labels
Hay Harvest Height
Cool Season Grass Season Part II
Cool Season Grass Season
Forage Recovery - Video Summary
Effects of Late Season Usage on Cool Season Grasses
Water Requirements
Multi-stemmed Brush Species - Roughleaf Dogwood
Multi-stemmed Brush Species - Buckbrush
Corn/Soybean Inputs: Sugar
University of Wisconsin Resource
Ohio State Resource
University of Nebraska
Cold Snap & Insect Life
Sulfur Management in Brome
Broomsedge Bluestem - Considerations for Control
Broomsedge Bluestem - Why it thrives
Weed Seed Movement - A Wisconsin Case Study
Link to Wisconsin Study
Managing Forages in the Early Fall
Row Crop Diseases & Fungicide Resistance
Missouri Nitrogen Studies
Soybean Residue - Worth More Than You Think
Alternative Corn N Sources/Timing
Fertility Management of Cool Season Forages
Soybean Fertility Considerations
Nitrogen Loss in Wet Soils