Walk Kansas 2023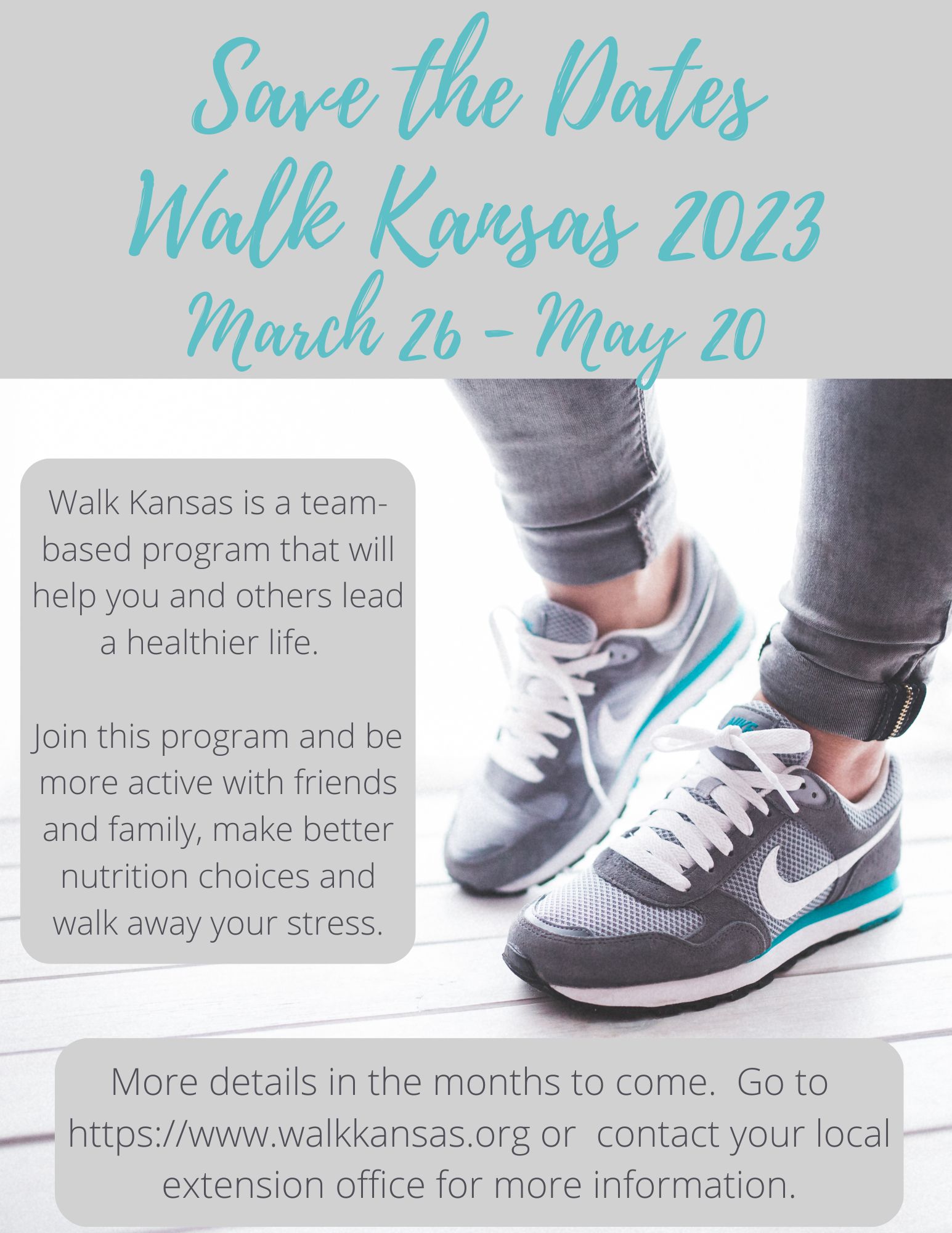 Walk Kansas 2022
Let the walking begin

Improve your personal fitness with the support of a team of six friends, neighbors, family members or co-workers and "walk" your way across Kansas.
For the "Solo Challenge", you just need to choose a goal that works for you with a minimum of 2 1/2 hours/week of moderate and/or vigorous intensity activities. The trail is much longer and you are not expected to complete the trail during the 8 weeks.
Walk Kansas Shirts - 2022 colors are the following: t-shirts - Heather Clay and Heather Teal; Hoodies - Teal and Heather Purple; Ladies Tank - Grey; Baseball T-shirt - Grey/Purple; 1/4 zip, long sleeve pullover - Grey.
The process for ordering t-shirts and other apparel has changed. After you complete online registration, log into your portal and click on the word "Shop" at the top of the page. This will take you to our apparel vendor site, www.shopwalkkansas.com, and you can place your order. Unlike previous years, you will be required to pay shipping and the items will be shipped directly to you. (You can save on shipping by ordering all of your teams items at once and have them shipped to one location.)
Walk Kansas Web Store
Ordered by March 25, orders delivered first week of April.
Ordered by April 1, orders delivered week of April 11.
Ordered by April 29, orders delivered week of May 9.
Team Captain Information & Forms
2022 Online registration is available March 1 through April 3 at www.walkkansasonline.org.
2022 Team Registration Form - JA Co.
2022 Team Registration Form - JF Co.
2022 Team Registration Form - NM Co.
Participant Information & Forms
2022 Participant Registration Form
Promotional Handouts