Stay Strong, Stay Healthy
Strength Training Program for Older Adults
Join us to build the strength you need to enjoy good health as you age. Stay Strong, Stay Healthy (SSSH) is an eight-week exercise program that incorporates the latest research to help you develop the fitness, flexibility and balance that will enable you to live independently longer. It is intended for 55 year old or older participants.

In one hour-long courses that are held twice a week, trained instructors will lead you through a warm-up, easy-to-learn strength exercises and a cool-down. SSSH exercises are safe and effective, and we'll provide weights for your use on-site. No need to wear special clothes — just comfortable, loose-fitting pants and shirt, along with sturdy, closed-toe walking shoes. You'll find courses in familiar, nearby venues, such as senior centers or church halls.

After you've completed the course, we'll provide you with a guide you can use to continue strength training in the comfort of your home.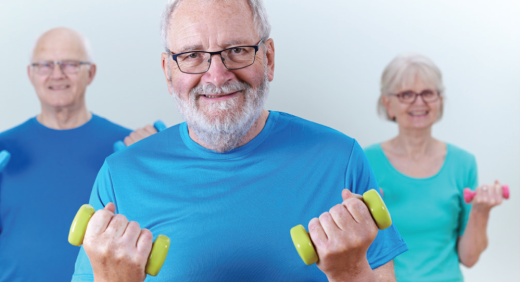 What are the benefits?
Strength training:
Increases muscle strength
Improves balance
Enhances flexibility
Strengthens bones
Relieves arthritis
Helps control weight
Lifts depression
Reduces stress
Reduces risks for heart disease
Upcoming Stay Strong, Stay Healthy Program Dates
2022
Nemaha County Location:
Nemaha Co. Community Building, 1500 Community Dr., Seneca
Dates of Class:
October 24, 27, November 1, 3, 10, 15, 17, 22, 29, December 1, 6, 8, 12, 15, 20 and 22.
Time:
9:00-10:00 AM
2023
Jackson County Location:
Jackson County Senior Citizen Center, 312 Pennsylvania Ave., Holton
Dates of Class:
January 10, 12, 17, 19, 24, 26, 31, February 2, 6, 10, 14, 16, 21, 23, 28 and March 7. (There will be snow make-up dates as needed.)
Time:
9:30-10:30 AM

Jefferson County Location:
Meadowlark Extension District, 100 E Washington (in basement), Oskaloosa
Dates of Class:
January 10, 12, 17, 19, 24, 26, 31, February 2, 6, 10, 14, 16, 21, 23, 28 and March 7. (There will be snow make-up dates as needed.)
Time:
9:30-10:30 AM
Forms to complete:
Participant Enrollment
Participant Consent
Physical Activity Readiness Questionnaire
Pre-Course Survey
Stay Strong, Stay Healthy Publications:
Be Food Safe - Listeriosis
Easy Eating
Get Enough Fiber
Food for Thought
Protein
Thirsty
Vitamins & Minerals